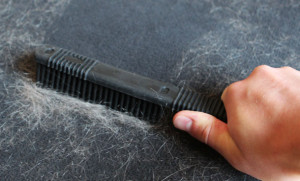 We know that your pets are an important part of your family, and letting them jump up on the couch with you after a long day at work is a relaxing way to end the day. Of course that leads to the inevitable build up of cat or dog hair, so what can you do when your next cleaning service appointment with Norberto's is still a few days away?
If you have time to get to the pet store, we recommend getting a "pet sponge," a dense block of material that removes pet hair (and dust) from fabric, carpet, curtains, upholstery, and clothing, among many other things. It's used dry, and it's great for those corners you can't get to with a regular lint brush.
First, try using a velour brush or a pet rake, which is a brush with crimped nylon bristles to brush the hair off upholstery and fabric. If you're short on time, a lint roller or tape wrapped around your hand will do the trick. Use light, even strokes to remove the hair. As a last resort, use the rubber bottom of a clean tennis shoe to grab the hair.
A vacuum with a good beater brush or a brush roll will keep your carpet free from Fido's fur, too.
When Norberto's gets there for your regularly scheduled appointment, we'll be sure to leave your home looking almost as if you don't have a pet. And you'll be more than happy to invite your furry friend up on the couch at the end of the day.